BIOGRAPHY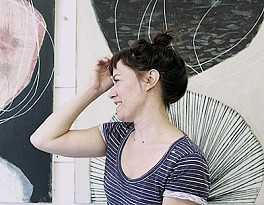 BIOGRAPHY
Born in Montreal, Quebec, 1977
ABOUT
A graphic artist by profession, Canadian Karine Léger began to explore her interest in painting in the early 2000's. Over the ensuing years, her artistic vision evolved through photography, collage and painting.
At first, Léger was drawn to portraiture. Then in 2006 and 2007 she traveled to Northern Quebec and Iceland where the landscape completely changed her artistic vision, and she developed a love for vast spaces and the calm of winter.
Since then Léger has been developing a unique style through her abstract paintings. Léger's interpretation of these empty spaces starts with elaborate research of textures which she draws on from her own photographs, books and the internet. Léger's approach first involves the need for deconstructing to better establish the foundation for an introspective reconstruction. Each painting is beautifully spare in both its palette and line.
Léger's coupled elements invite personification. One imagines the opposing forms/ personalities growing closer, tentatively, in an attempt to find common ground. Her subtle outlines encompass parts of each shape, perhaps suggesting a meeting of the minds.

Canadian painter, Karine Léger's unique layering process results in a surprising palette and a beautiful, subtle surface texture.
Select Press
Layers of Beauty, Karine Léger at Lanoue Gallery
by Lisa Mikulski for Artscope magazine, 2018
The Lanoue Gallery, Boston, presents "New Works by Karine Léger" — a show that will certainly fortify the minds and spirits of gallery goers.
Canadian artist Karine Léger's large-scale abstracts represent her expression of Quebec winter spaces and Icelandic landscapes. Simple and sparse in both palette and form, Léger's shapes float across the canvas as if supported by some ethereal means. Each element is fiercely independent and yet these elements come together gracefully to meet, to overlap, or to perhaps pass one another in a journey that continues off the canvas. The work leaves me feeling introspective and imaginative.
Part of the beauty here is the layering Léger employs, producing soft and separate textures that allow each element to exist in its own plane — a technique borrowed from her work with collage. But make no mistake, collage is not a part of the final product and is used only as preparation in the artist's planning stage.
Her artistic process is comprehensive and exacting. It is not only in Léger's work, but also in her personal life, that balance is sought. She explained that in the studio, she begins with the need to deconstruct in order to lay the foundations for an introspective reconstruction. Léger collects examples of textures, shapes and colors taken from her own photographs, books and internet imagery. Working with these bits of photos and torn pieces of paper, she meticulously selects and arranges, and rearranges, until she finds the right combination for her expression.
"For the composition part of my work, I am more interested in the search for balance. We all have a quest for équilibre in our lives, and it became obvious to me when I moved out of Montreal to live in a smaller town," explained Léger. "I had a hard time finding work to support myself and the fear of the unknown produced a lot of anxiety in me. It started to affect my paintings, but the result was actually a positive one. I found that while I could not always control the outside forces of life, my paintings became my own little worlds where I could arrange uncertainly or chaos into the order and balance I craved."
While her canvases are calming and tranquil, the energetic spirit of the artist is apparent. Léger began her career as a graphic artist, but in the early 2000s, she started exploring her interest in painting, along with photography and collage. In 2006 and 2007, trips to Northern Quebec and Iceland challenged her vision and her eye, and the artist's interest and expressions turned toward the silent still spaces of winter. In 2006, she went to live up North for a few months in an Inuit village and found the experience to be life altering.
"The landscape and wide horizon, and all of the sensations that come from standing on a land with no trees and the wind blowing – it's extraordinary," Léger said. I found this same feeling when visiting Iceland for the first time. Except, there were mountains – huge mountains – and fjords! Surrounded by this force and softness of nature, the colors and contrast become so inspiring."
While I generally like to let pieces of art speak for themselves, as a writer I am also intrigued (sometimes) by the titles artists assign to their work. In the case of Léger's work, we find such titles as Keeping You Close, Throwing Words and Tout Autour. These bring a whole different dynamic into what I'm seeing on the canvas, as now my mind wanders to wonder about the relationship between the shapes, and ties that bind, bringing us together or causing us to part. Sweet romantic notions came to mind and yes, even the edgier aspects of personal relationship.
It's often in the simplest of things that we are allowed to find complexity. As individual as each viewer is, Léger's work can excite and inform the imagination.
Gallery owner Susan Lanoue explained her feelings for Léger's work: "Karine's compositional elements are influenced by organic forms, often calling to mind rocks, shells and celestial entities – all things that have soothing, introspective associations for me. Conversely, Karine's overlapping shapes, often precariously balanced, invite an anthropomorphic interpretation which speaks to me on a deeper level about relationships and vulnerability."
Léger's process brings her peace, and perhaps we feel the stillness and balance of these compositions because it is from that place of peace where the artist creates. This is truly a show not to be missed.
2015 Mixte Magazine
Karine Léger, Art in the balance
In the studio, bits of torn and cut-up paper and photographs form a growing pile on the work table. Individual pieces from the pile will be meticulously selected for colour, texture and shape, to be arranged and rearranged, assembled and reassembled, in a quest for the right balance. Brushes and paints sit patiently while the artist finishes her collage-sketches, awaiting their turn on the huge white canvas.
This slow, deliberate, creative process is how Karine Léger builds the foundation of her next work. Nothing is rushed, nothing is forced. She stops only when that precious balance has been achieved. Although the composition is set in her sketchbook, she reserves the right to stray from the concept in deference to the canvas. The unhurried pace suits her and she respects it.
Landscapes emerge from the destruction. Superimposed layers of images and transparent acrylics give birth to geometric shapes suggestive of things found in the natural world. Abstract, yet deeply evocative, her spare compositions leave room for the viewer's interpretation.
Recently, this process has produced two magnificent series of paintings: Mountain Names and The Shape of the Sky.Wide-open spaces and vast expanses of snow are the source of her inspiration. Karine has spent time in the Far North among the Inuit, in a place where time stands still and silence reigns supreme. Those Northern landscapes have left their indelible mark. There she found contentment.
Balance is what she seeks in every aspect of her life. Indeed, her creative process is intimately tied to her personality. Her palette indicates an artist in pause, enjoying the calm, avoiding environments that blare and colours that shriek. It is also her link to nature, and to human nature; it is her love of her creations, her love of self. For Karine Léger, there is meditation in the way she applies layer upon layer of texture, working to the strains of soft music, or in silence.
Art has always been part of Karine's life. As a child, she spent hours alone, drawing. She studied Fine Arts in CEGEP, eventually focusing on Graphic Arts, which allowed her to alternate between work, art, and private classes. In 2000, painting slowly crept back into her life and art, and her canvases began to be exhibited in a growing number of group and solo shows. In 2012, her work caught the attention of Olivier Gagnon of Galerie MX, who took her under his wing. Her career soon took flight, eliciting interest in the international market, and in 2014, she began representation by Lanoue Gallery in Boston.
An even greater maturity informs her newest series, which can be seen as something of a sequel to The Shape of the Sky. Karine continues to explore, provoke encounters and work in group studios with other artists, finding them a rich source for the conversation, questioning and fragments of answers that feed her creations and her quest for balance.


SELECTED SOLO EXHIBITIONS
2020 Recent Works, Lanoue Gallery, Boston, MA
2020 Artist Focus, The & Gallery, Edinburgh, Scotland
2019 Nouveaux Paysagees, The & Gallery, Edinburgh, Scotland
2018 Recent Works, Lanoue Gallery, Boston, MA

2016 A Ta Rencontre, Midtown Sanctuary, Montreal, QC
2010 Sans Visage - paintings, Narcisse Bistro, Montreal
2009 Forêt - photography, StudioBizz, Montreal
2009 Portraits - paintings, Maison de thé ChaNoir, Montreal


TWO-PERSON & GROUP SHOWS
2019 Recent Works, Lanoue Gallery, Boston, MA
2018 Unrestricted, The & Gallery, Edinburgh, Scotland
2018 Wonderland – Space Gallery, Denver, CO
2018 Initial Sighting, & Gallery, Edinburgh, Scotland
2017 Solo à Quatre, Montreal, QC
2017 Karine Léger & Jeremy Holmes, Lanoue Gallery, Boston, MA
2016 Karine Léger & Jaeok Lee, Lanoue Gallery, Boston, MA
2015 Intervalle (with Patricia Barrowman), Galerie MX, Montreal, QC
2014 Winter Group Show: Introducing Karine Léger, Lanoue Gallery, Boston, MA
2014 Traits abstraits, Galerie MX, Montreal
2014 Karine Léger and Joanna Chelkowska, Galerie D, Montreal
2013 Déconstruction, Galerie D, Montreal
2012 Exposition collective de petits formats, Galerie Suite 60, Trois-Rivières 2012 Exposition collective Pi 2, Galerie MX, Montreal
2012 Le nord, le sud, Galerie Espace, Montreal
2011 Expositie Dierlijk, Gesamt Galerie, Rotterdam
2011 A small Conversation, Restaurant Le Barbare, Montreal
2010 The Sketchbook Project 2010, Art House Co-op, Brooklyn
2010 The Square Foot Show, AWOL Gallery, Toronto
2010 Swiss Consulat, Montreal
2009 Bain St-Michel, Exposition de petites oeuvres, Montreal
2006 Galerie In Vivo, Montreal