PRESS RELEASE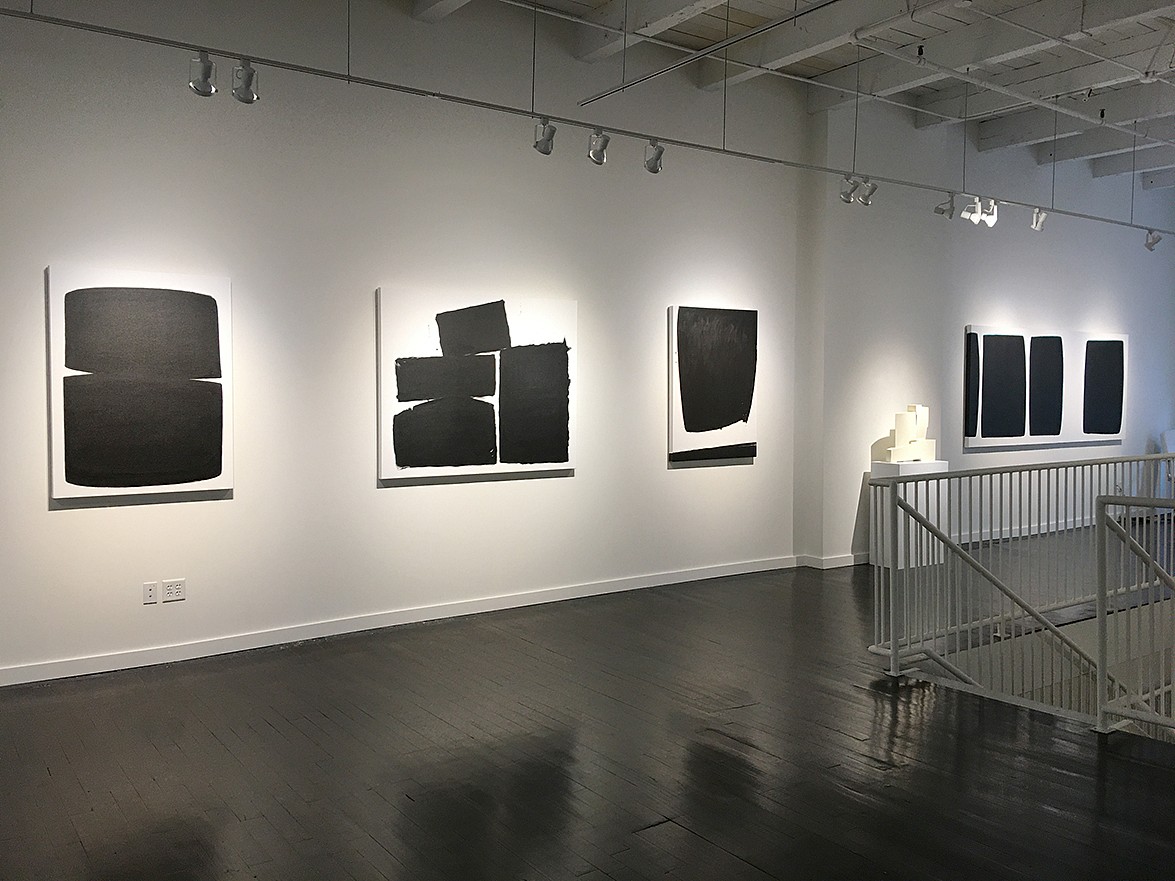 Tim Forbes 2020: NOIR: Works on Canvas & Paper
Sep 9 – Oct 11, 2020
Tim Forbes
Canadian, b. Halifax, Nova Scotia, 1950
"A belief in the social necessity of art and its value well beyond the whimsy of popular culture has inspired much of Forbes' inventive career." – No3 Magazine, New York.
Tim Forbes is a Canadian multidisciplinary artist. Born in Halifax, among other adventures he attended the Nova Scotia College of Art (NSCAD) prior to creating his first graphic design studio at age 24 – soon thereafter relocating to Toronto where he garnered acclaim as a creative source for the performing arts, the music, film and television industry as well as major corporations in the production of cross-platform communications.
A confessed architecture passionate, in a number of solo exhibitions and publications, Forbes has exposed physical and psychological perspectives in photo-base monographs, ranging in theme from cultural memory to the fractal repurposing of built form.
Looking to stretch beyond the confines of an urban design studio, in 2006, Forbes created an annex studio at a rural schoolhouse initiating sculpture in a signature suite entitled HUMAN. Within that year, clay masters were cast in editioned bronze for release to collectors. In 2016, the commissioned work, A Complexity of Crows carved in B.C. Western red cedar, received a special CODAWorx award and listing in the CODATop100. Today, large-scale commissioned works are produced in chroma fiberglass, resin, bronze, wood, and stainless steel.
A 2018 series of gestural works on paper created at an annual summer studio in Nova Scotia prompted the opening of a dedicated painting studio in Toronto exploring monochromatic symbolism as large works on canvas. Working exclusively in carbon black, the acrylic Carbon Series was formally released to collectors at the 2019 Toronto International Art Fair. His ongoing Carbon series – K –continues in reflecting fuller minimalist modeling of pattern recognition and repetition.
In 2019, Forbes circled his creative epicentre back to the Atlantic shores of his native Nova Scotia where his studio practice embraces painting, photo-base imagery, sculpture, editioned prints and multi-media.
Artist Q & A
Interview with art and communications specialist, Roz Joseph, founder of The Roz Joseph Group, New York, Sept. 2019
What motivates you as an artist?
Motivation is such an abstract: it's driven by personality, ability, expectation, ambition, gender, age, needs, wants, desires… for me it all relates to exploring the human condition, and manifesting works that are connected to my own personal emotions as well as the influence visual or dimensional exploration has on others. Dogs gotta bark.

What is your process in making art?
In sculpture I work in maquette forms, small scale models in clay or metal that are then scaled proportionally using state-of the art technology such as 3D scanning and CNC milling. WhileI create alone, I also rely on a team of as many as 15-20 people to realize the fabrication of large scale works in resin, fiberglass or steel.
With sculpture fabrication such as the lost wax process in casting bronze, rarely are there sketches of a piece, but rather I work intuitively within a creative session. From there the process involves the complication of molds and molten metal casting,
With paintings I tend to plot dimensional form digitally, so I can understand the tension and relationships to form and how it reflects on others in a series before attacking a piece, and usually always on prepared canvases from Montreal.
Photography becomes more capricious in counting on a trained eye, after many years as an art director and designer, mixed with peripheral vision that quickly edits the mind's eye. Final works can be a complex, seamless composition of massive digital files. Or not.
At times, shooting simply in single point perspective to imply the dimension of the subject. I am innately drawn to the repurposing of line and form in architecture and organic structure as much as the documentation of places and spaces attached to cultural memory.


Do you remember the first time you picked up a paint brush?
At dinner not long ago with friends: an nauthor, a photographer and an architect, I posed a similar question: In retrospect, do you recall the point in your life that you realized what it was that you would need to do? The answer of age was similar to each of us.
​For me, I was probably 4 or 5. I could spend hours inventing, or be squatted with a bucket of clear water from the hose, a large brush gripped in my hand as I "painted" gestures across the foundation of the house, the unsealed concrete turning dark at my command, then vanishing. In retrospect, perhaps the genesis of the continual inspiration of line and form.

Why do you choose one type of paint over another?
I like carbon black. It's a colour that's made up its mind.I prefer to work in acrylic. Carbon black acrylic is my default, with the occasional smattering of another colour as a counterpoint.
For your photo works, which paper do you prefer to print on?
That depends on the subject matter. For large photographic works, I prefer a satin finish paper for dense colour, or a matte finish for black and white (Epson, Canson, Hahnemühle, etc.). It also relies on the suitability of media available from my supplier. For works on paper, gestural paintings and graphics, cotton rag papers.
What do you want people to know about you as an artist?
I'm a really good cook.
Where are you from?
I was born on the Canadian east coast – Halifax, Nova Scotia where I now have my home and studios after living half my life in Toronto exploring occasionally with travels to France, Italy, the UK and the US. I would like to have lived in Italy, but as I would return to Nova Scotia annually to spend summer studio time in the solace of the shore, I finally decided to make it the epicentre of all that I do.
What can you tell us about the art community there?
The east coast of Canada is rife with acclaimed artists – musicians, writers, painters, craftsmen and crafts people. There's something in the water. It's an active community with respect for the talent of peers. The kitchen is the favoured meeting place.
What are the challenges you face as an artist?
Knowing where to begin and when to stop.
While it also applies to painting, perhaps that can be best summed up about sculpting: "...it's like swimming laps – a solitary exercise: one of repetition, of meditation and of trying not to drown in your own thoughts."
Which artists do admire and why?
I tend not to have heroes. In a constant overload of digital visual stimulation, I attempt not be derivative in my own ideals, ideas and expression – evolution through osmosis is inevitable. Other than living in the shear enjoyment of seeing, it's important not to look right or left in order to maintain vision.
I am moved by the power and purview of so many artists – the likes of: Cimabue, Etruscan bronze, permission from Picasso or Bacon, grace from Loie Hollowell, electrification from Mary Weatherford, sex from Ken Price, lyric from Joni, tempo from Glenn Gould, tension from Serra, climax in Riopelle, Pollock or Borduas, courage from Maplethorpe and Basquiat, observations from Michel Majerus to Bansky.
The amalgam informs the subliminal.


Commissions:
2020 – STORM DORIAN, Diptych, Canvas
Garrison Point Condominiums, Toronto
2019 – CLOUD, Sculpture
The Art Shoppe Condominiums
Freed Capital Developments
Architects Alliance, Janet Rosenberg Studio
Karl Lagerfeld
2019 – CARBON SERIES – Canvas, WOP
The Ritz-Carlton, Toronto
The Design Agency
2019 – POWER, Sculpture
Massey Tower Condominiums
MOD Developments, Hariri Pontarini Architects
Janet Rosenberg Studio
2017 – LeLOOP, Sculpture
L-Tower Condominiums, Collector's Lounge
Studio Daniel Liebeskind, GZArtCo
2015 – A COMPLEXITY OF CROWS, Sculpture
Private collector commission
2015 – Photography
Holt Renfew, VIP Lounge, GZArtCo
2014 – ECHO, Sculpture
Private collector
Powell & Bonnell Interior Design
2011, 2012, 2013 – Sculpture
Interior Designer of Canada (IDC) Annual Awards


TIFF Special Collection:
As a leading producer of marketing materials for the film, television and performing arts, in 2015 TIFF obtained more than 700 examples of Forbes work for inclusion in the TIFF Research Library Archives as a collection in his name. The first such collection of its kind by a Canadian designer.
Additional works by Forbes are also housed in the National Archives of Canada.